Call for Contributions to BE CONNECTED Newsletter by BeLuThai
BE CONNECTED by BeLuThai welcome our member to share, would you mind contributing news in our newsletter?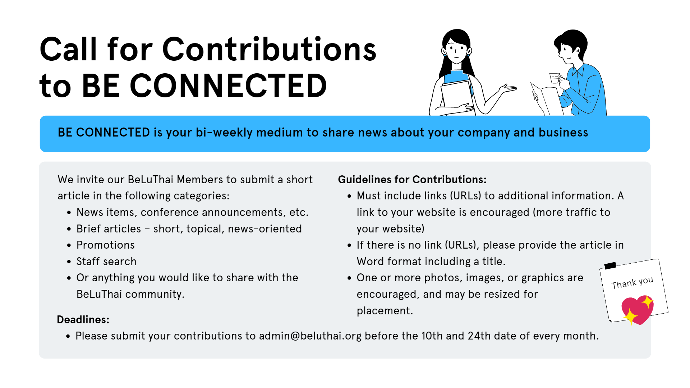 Dear Members,

The Belgian-Luxembourg/Thai Chamber of Commerce (BeLuThai) is seeking your contributions to the weekly BE CONNECTED Newsletter to share with the BeLuThai community. We invite our BeLuThai Members to submit a short article or announcement that fits into the following categories:
News items, conference announcements, etc.

Brief articles – short, topical, news-oriented

Promotions

Staff search

Or anything you would like to share with the BeLuThai community.
Guidelines for Contributions:
Must include links (URLs) to additional information. A link to your website is encouraged (more traffic to your website)

If there is no link (URLs), please provide the article in Word format including a title.

One or more photos, images, or graphics are encouraged and may be resized for placement.
Newsletter Deadlines:
Please submit your contributions to admin@beluthai.org before every Wednesday.

Click here to send your information

Looking forward to hearing from you soon.

Best regards,
BeLuThai