COMPANY DETAILS
WHA Industrial Development PLC is a leading developer of industrial estates and industrial parks in Thailand. We also provide developed land for factory, ready built factory and warehouse with total property solutions.
Over the past 30 years, Thailand's Eastern Seaboard has emerged as the country's industrial hub, with the National Petrochemical Complex at Map Ta Phut in Rayong Province, the container port at Laem Chabang in Chonburi Province, and massive investments in power, water supply networks, refineries, highways, transportation, communications, human resources and supporting infrastructure.
Thailand has a large and integrated petrochemical industry, hosts international automotive manufacturers that export to 130 markets worldwide, and is consistently rated highly as being attractive for foreign direct investment. WHA has played a key role in this industrial development.
THEIR PRODUCTS AND BUSINESS
(1) Industrial Estate
WHA Industrial Development or WHA ID develops 12+ industrial estates of 69,700 rai (27,500 acres; 11,150 Ha) and 875,000 square meters of Ready Built Factories and Logistics Parks, primarily located on Thailand's Eastern Economic Corridor (EEC). Industrial customers are automotive, petrochemical and others comprising 886 distinct customers with investment estimate of USD 33.8 Billion.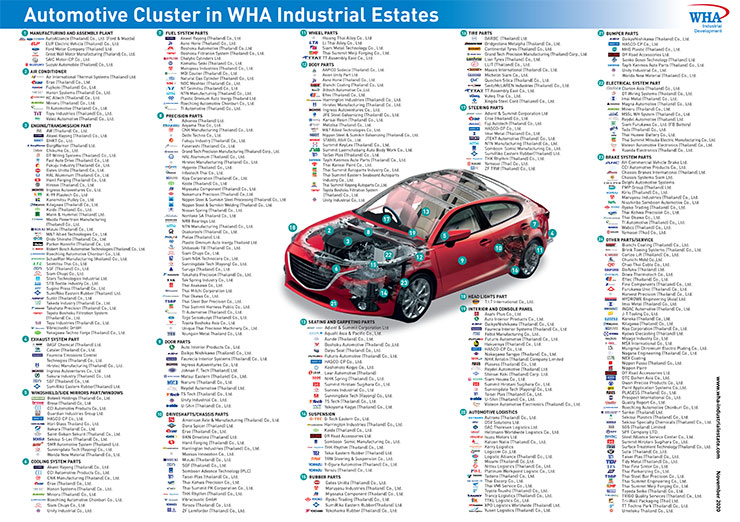 (2) Ready Built Factories
Sized from 500 to 10,000 sq.m., Ready Built Factories for Rent offer manufacturers various alternatives to fit their requirements with a quick entry and lower initial cost as well as provide customers flexibility on investment and financing as well as a growth path to larger buildings or to developed land as their business expands.
(3) Ready Built Warehouses
With the growing demand for logistic services and storage in the Eastern Economic Corridor (EEC) , which has become more specific and sophisticated, WHA Logistics Park 1-4 offers international standard logistics warehouses offers space of 1,545-50,000 sq.m. with both truck and container loading with handling flexibility.
(4) Utilities and Power
At WHA industrial estates, most of the integrated utilities are provide through WHA Utilities and Power Plc, Thailand's largest private provider of industrial water, including treated industrial water at 281,000 cubic meters per day and capacity of 117,000 cubic meters of wastewater per day.
For contacting the company: marketing@wha-group.com
WHA Industrial Development in Bangkok
777 WHA TOWER, 23rd - 25th Floor, Moo 13, Debaratna Road (Bangna-Trad) KM.7, Bang Kaeo, Bang Phli, Samut Prakarn 10540
Tel. +66 2 719 9555
Fax. +66 2 719 9546