Dear Members and Friends of BeLuThai,
Welcome to BeLuThai's weekly news update, here are some updates and announcements:
To BeLuThai members, please don't forget to register to join us for upcoming BeLuThai Boards Election and Annual General Meeting (AGM), on April 26th 2023, time 17:00-19:30 hrs at Pratunum Room, 7th Floors, Amari Watergate Bangkok .
To view the list of our candidates please click here.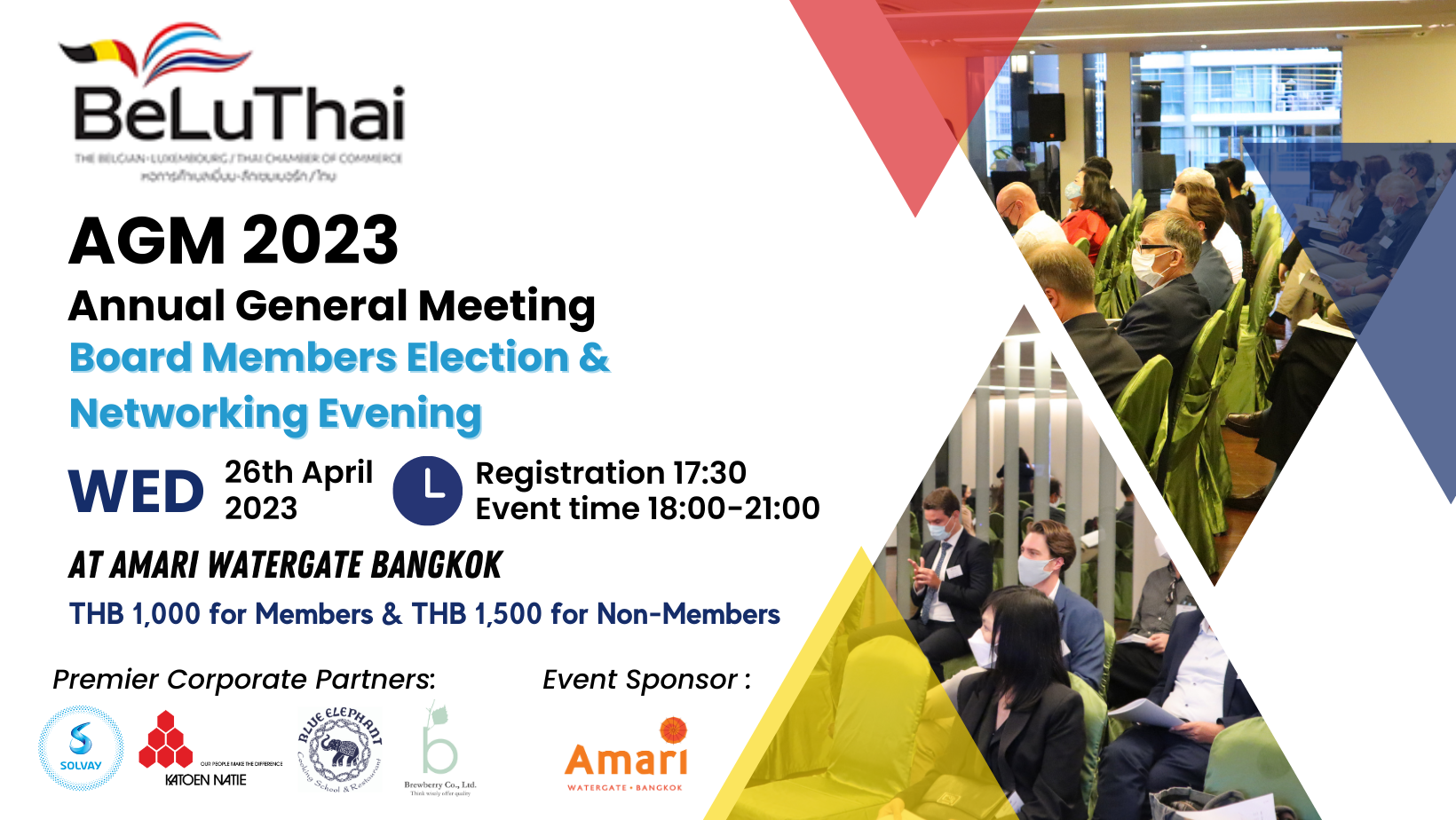 A gentle reminder to

BeLuThai

member companies who joined us from April 2022- March 2023, we are pleased to give you a 3-minute presentation during our AGM. We encourage you to participate and together continue to improve our Chamber activities. To confirm your participation please submit your company presentation to
info@

beluthai

.org
by April 24th 2023
The AGM will be followed by a Networking Evening with delicious food, and a free flow of wines, Belgian beers, and soft drinks. The Networking is partially sponsored by Amari Watergate Bangkok.
On April 19th together with the Joint Foreign Chambers of Commerce in Thailand (JFCCT),
BeLuThai
attend the JFCCT Presidents' Council Luncheon at Conrad Hotel Bangkok to hear the presentation from Assoc. Prof. Dr. Veeris Ammarapala Governor of Industrial Estate Authority of Thailand (IEAT) on "Investment Opportunities in Thai Industrial Estates". Assoc. Prof. Dr. Veeris Ammarapala is also sharing the comprehensive overview of IEAT's role and functions, as well as the current industrial development in Thailand. To view the copy of presentation please click
here
.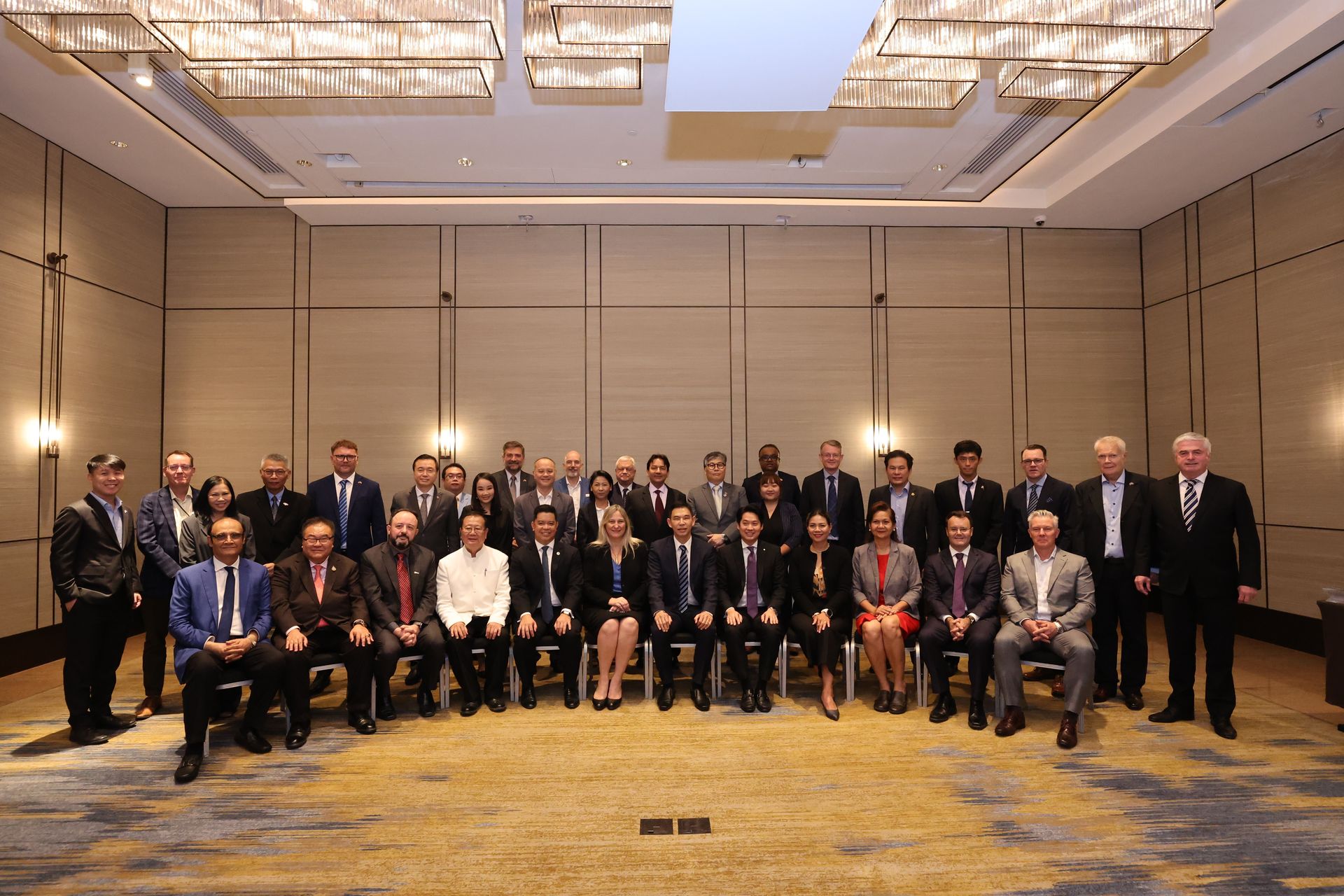 Sponsorship opportunity at BeLuThai events: we would also like to invite you to sponsor our upcoming events. By doing so, you will have the opportunity to showcase your brand and connect with our diverse network of professionals. We offer various sponsorship packages to fit your needs and budget. For more information please feel free to contact me at ed@beluthai.org
BeLuThai Membership Benefits: you have access to a range of benefits including free banner ads, weekly news, and more. Be sure to take advantage of these benefits to help grow your business. By reaching out to us at marketing@beluthai.org
If you have any news or announcements that you would like to share with the community, please send them to info@beluthai.org Thank you for your continued support of BeLuThai.
Checkout our full calendar please click: "Upcoming events in 2023" or follow us at
And again, the BeLuThai team would like to wish you a lovely weekend.

Sarudha Netsawang (Orn) Executive Director

Best regards,
BeLuThai AGM 2023, following by Board Members Election and Networking Evening

Date: Wednesday 26th April 2023
BeLuThai Gala Dinner : The Oscar Night

Date: Friday 9th June 2023

Time:

18:00 onwards (Bangkok Time)

Venue:

SO/ Bangkok
Chamber Partners Upcoming Events
FTCC & BOI - Exclusive Luncheon : Long-Term Resident Visa in Thailand

Date: Wednesday 26th April 2023
GTCC - Multi-Chamber Eastern Seaboard Networking

Date: Friday 28th April 2023
NTCC/FTCC/STCC/Swecham - Sustainability for Business Forum 2023

Date: Thursday 18th May 2023
Sponsorship for VZW Sepak Takraw Belgium Team
VZW Sepak Takraw Belgium
The Club is founded in 2008 and has been recognized several times for its innovative effect and perseverance in promoting Sepak Takraw by International Sepak Takraw Association of Federations (ISTAF) & Federation of European Sepak Takraw Associations (FESTA).
This is a sponsorship opportunity for World Cup Thailand 2023 : 11-18 July 2023 which takes place in Udon Thani for the first time. The 2023 missions are :
To confirm our place in the European Competition

Participation at the World Cup in Thailand

Organize the 10th Belgian Open in October as a part of the ESTL (European Sepak Takraw League)
Sponsor Benefits :
Family club that considers fair play to be of paramount importance

Not just limited to Belgium - international exposure

We already appeared on various media, Belgium, Europe, and Thailand

Uniforms are used for multiple seasons = several years in the spotlight

You can say you support the Belgian delegation

The club performs at various events/ opening such as 'Stadskriebels' in Brussels, 'Doe-Aan-Sport-Beurs' in East Flanders, fan day at KV-Kortrijk (first division football team), Match of the day (Red Devils), Kevin De Bruyne cup, series of initiation lessons, and more.
Sponsorship Packages