Khon Kaen Business Forum 2022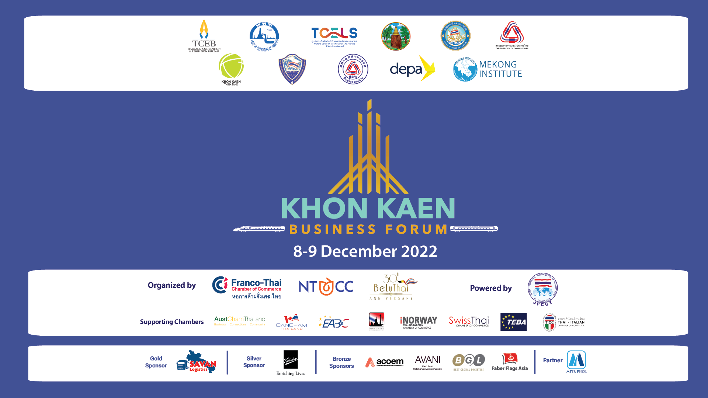 This year, the wait is finally over!
FTCC, NTCC, and BeluThai would like to invite you to its onsite
Khon Kaen Business Forum on 8-9 December 2022
in partnership with ISAN BCG EXPO/ISAN BCG FORUM 2022
Last year, Khon Kaen Business Forum was a remarkable success for 3KKBF Thematic online webinars and the Virtual Event. The participants had an opportunity to discover the Khon Kaen business community through the panel discussions and the start-up business pitching, also making and exchanging new key information among Khon Kaen key players and the foreign business community.
Come join our 2-days program where new business opportunities are awaiting you. The program will allow you to learn and discover local projects. To get to know key players in Khon Kaen, on the first day, you can choose 1 route: "Agro" or "Smart City" to visit and end the day with a welcome reception at Avani Khon Kaen Hotel. On the second day, you will have an opportunity to attend many activities as we are partnered with the ISAN BCG Expo/ISAN BCG Forum 2022. The activities include panel discussions with various interesting topics on BCG, exhibitions in 3 Zones (Innovative, Creative, and Green), organic markets, and concerts, with the aim of stimulating the economy and promoting Khon Kaen tourism city. Then, in the evening, you will join the Multi-Chamber Networking Cocktail and meet other people from different industries and bonding in the international circle in a relaxed setting!

Should you have any questions, feel free to reach out to anyone of us at communications@ntccthailand.org, rudee@francothaicc.com, and admin@beluthai.org

---
Event Detail: Date: 
Thursday 8th to Friday 9th December 2022
 Venue: 
Avani Khon Kaen Hotel & Convention Centre (map)

 Participation Fees: 
5,000 THB for the 2-day business forum (VAT 7% excluded)
*The price includes a site visit, cocktail reception, ISAN BCG Expo & Forum, and Multi-chamber networking cocktail
---
Tentative Program
Thursday 8th December 2022
Visits and Networking (Select one route)
Registration 9:00 hrs.
Route 1 : Agro Route
Time: 09:30 - 16:00 hrs.

     • Khon Kaen Cricket Village project 
     • Mitr Phol Phuviang Sugar Factory
   
Route 2 : Smart City
Time: 11:30-16:30 hrs.
     • Khon Kaen community tourism project  
     • Smart City Operation Centre in Khon Kaen North Eastern Science Park

17:00 - 20:00 hrs. Networking & Mini expo @AVANI HOTEL
     • Open speeches by Khon Kaen high-level stakeholders
     • Mini expo
     • Networking

Friday 9th December 2022
ISAN BCG Expo & Multi Chambers Networking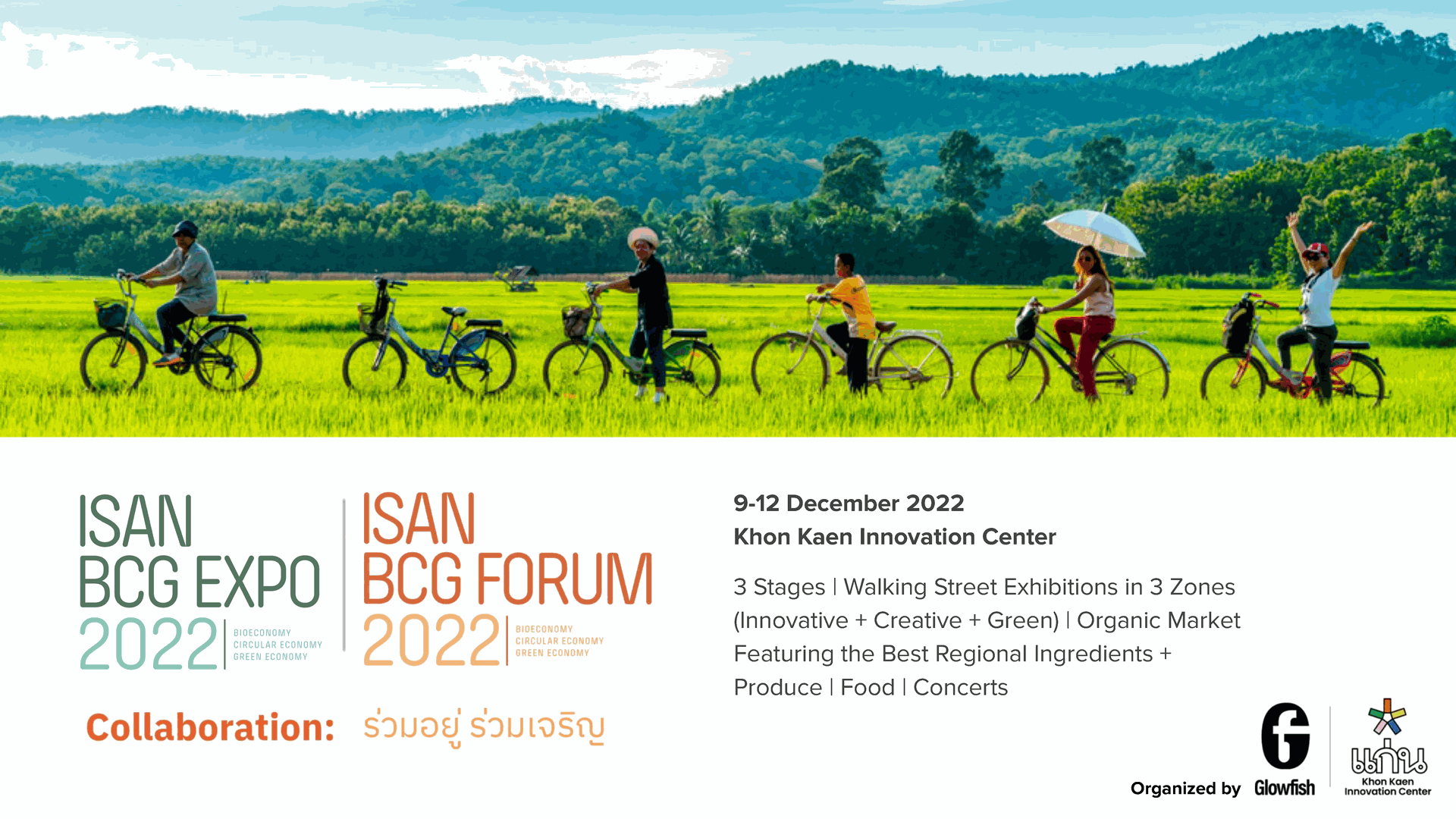 9:30-16.30 hrs : Attend ISAN BCG Expo/Forum 2022 at Khon Kaen Innovation Center (map)
*14.00-16.30 hrs. is hosted by our Khon Kaen Business Forum.
The session will be held in English.
THEME
     • Sustainable Competitiveness
     • ISAN 2030
     • Creating a resilient future with Sustainable banking
     • BCG And "Happy Model" Tourism
     • North Easter Economic Corridor (NEEC) 2030
     • Sustainable Urban delta
     • International perspectives in Isan Region


17.00-20.00 hrs. Multi-Chamber Networking at Ad Lib Khon Kaen (Map)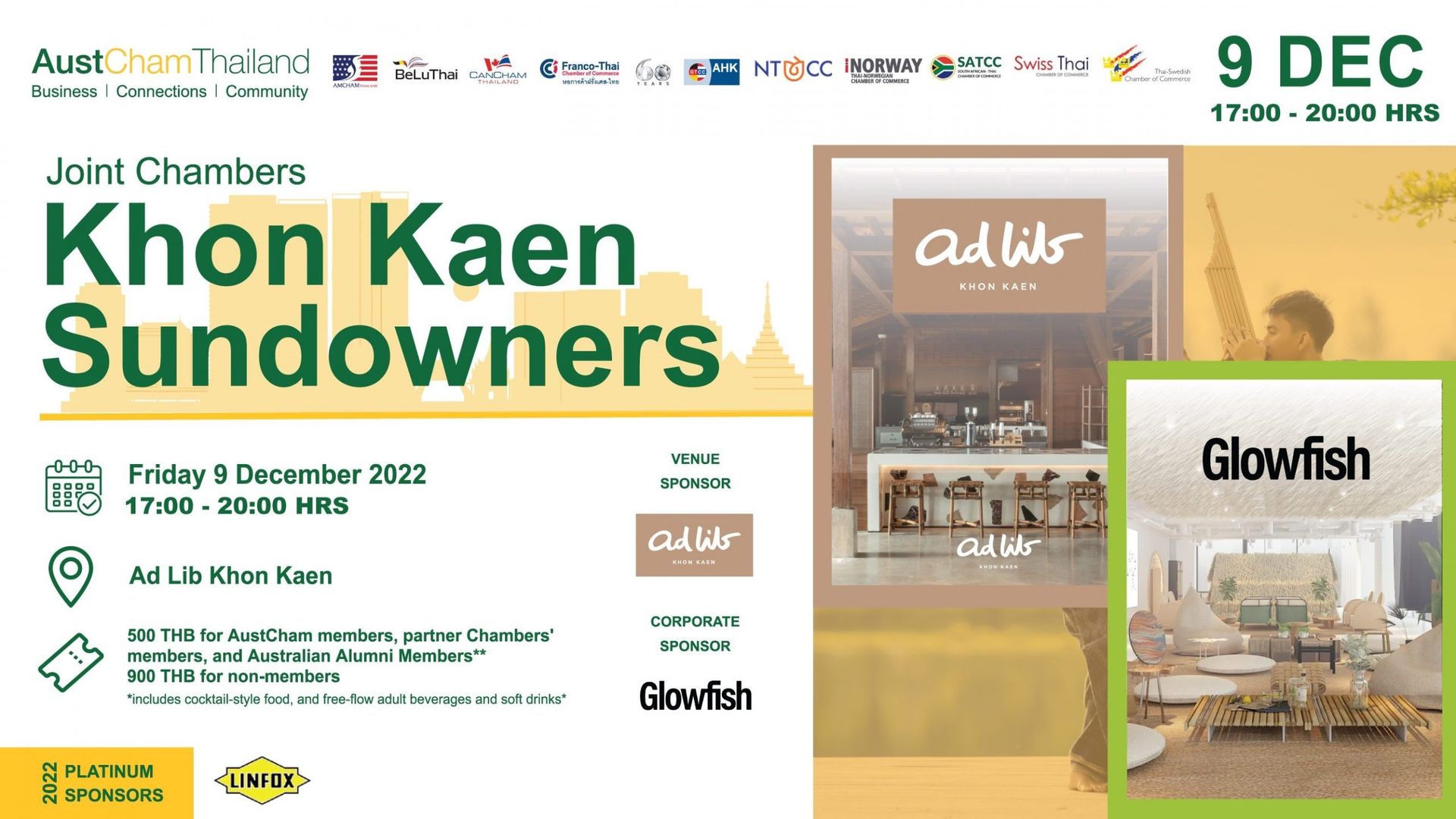 ---
Booking & payment:  
Please register using this website
*** Registration and payment are required before Friday 2nd December 2022 at 18:00 hrs ***
BeLuThai's event policy:
Due to COVID-19 restrictions and limited event space, advance registration and prepayment are required to confirm your booking. No payment on the door and no walk-ins. Thank you for your kind cooperation.
Payment and Cancellation Policy:
Advance payment is required to confirm your registration and if payment is not made 24 hours before the event, your place will be passed on to the waiting list.

Free cancellation within 24 hours before the event and payments are refundable or transferred to the next event's credit.

Cancellations received less than 24 hours and no-shows are NOT able to receive neither a refund nor credit. Those who haven't paid will be charged with invoices unconditionally.
---
Special room rate from AVANI Khon Kaen Hotel & Convention Centre from 8-10 December  2022

  Avani Room - King Bed:         2,000 THB
  Avani Room - Twin Bed:         2,000 THB
  Avani Premier Room:              2,500 THB
  Avani Junior Suite:                  4,000 THB
  Avani Executive Suite:            4,800 THB

* Please use this RESERVATION FORM to book your accommodation at a special price.
* For the hotel room reservation with payment notification, please send an email to khonkaen@avanihotels.com.
* For more information, please contact AVANI Khon Kaen Hotel & Convention Centre Reservation Office, TEL: +66 43-209-888
---
Contact:  
For any questions about registration, please contact :
Khaewalee Chuaynukul (Khae)
Tel.: 097-079-2500
Email: info@beluthai.org
For any questions about e
vent details, please contact :


Rudee Wattanavanichkul 
Tel.: 0873312442
Email: rudee@francothaicc.com

or Hillary Somboonkitchai
Tel.: 081-845-1487
Email: communications@ntccthailand.org