COMPANY DETAILS
Thierry Fostier was born in the Belgian Ardennes where a charcuterie tradition has been established for generations in his small town of Spa Francorchamps. He notably grew up with his aunt who made charcuterie at home and whom he followed and helped throughout her youth.
Good cooking and doing things the old fashioned way was commonplace for him.
Thierry then traveled and lived in Europe and in particular in France, Italy and Greece where he operated several restaurants and rediscovered the art of salting, drawing inspiration from the recipes of charcutiers he was able to meet on the markets and the mountain villages of Europe.
Now his two sons will join him and take up the torch, most certainly giving a whole new dimension to Maison Fostier.
2022 is already here.
These experiences confirmed what he had always been taught:
HANDMADE IS BETTER
Upon his arrival in Thailand, in Bangkok, Thierry undertook to approach the craft of charcuterie with purity and patience, recreating a traditional drying technique almost extinct in Europe and unknown in Asia.
His challenge to succeed in artisanal and natural charcuterie in a tropical country was therefore launched.
Its ultimate goal is to make 100% Thai local charcuterie with European know-how.

The result after several years of practice is the foundation of the current Maison Fostier company, established in 2020 and deeply rooted in the past.
Years of research and development mean that today the recipe book has no less than 30 recipes, all tested over and over again until you arrive at what you have the pleasure of tasting.
A real travel book through recipes of ancestral charcuterie from all over the Old World.
From Belgium to Greece via Italy, Spain and finally the Kingdom of Siam where he decided to settle for the long term.
FROM ANTIQUITY TO MODERN TIMES
All Maison Fostier deli meats are naturally handcrafted with the ultimate goal of quality.
In order to achieve a finished product that tastes as good as possible, we pay close attention to the smallest details.
Ingredients are our inspiration and we look for the best and freshest of them, from meat to spices, dried fruits, wine, beer, cheeses...
We carve local, organic, high-quality, lean, antibiotic-free pork with the addition of pure, mild fat and a judicious amount of sea salt, garlic and freshly ground spices.
Maison Fostier charcuterie is preserved in natural casings covered with a biological white mold (the flower) which protects them and gives them so much taste.
Such a deliberate approach promises the ultimate reward: vibrant yet smooth flavor and authentic, unique character.
HANDMADE BUT WITH PRECISION
Charcuterie is as much an art as it is a science. We approach it with inspired precision. All our deli meats are encouraged to age naturally and slowly without any artifice and in premises with filtered air
This rare technique ensures a finished product that has a deep, nuanced flavor as well as an exquisite texture.
OUR PRODUCTS
@ Maison Fostier we favor collaborations and partnerships with local farmers and breeders in order to best respect the stewardship of the environment and local communities. We are proud to say that our products are 95% produced in Thailand.
Our goal is to constantly supply ourselves with humane free-range pork eating a blend of herbs, guava leaves, turmeric, kariat all produced locally.
We refuse to process less expensive industrial pork. Animals confined, injured and sometimes living in horrible conditions.
We believe in the hard work, quality and care for the animal that characterize small farmers and ranchers.
For the creation of more elaborate products we collaborate with local cheese makers and winemakers from Chiang Mai to Ratchaburi.
At Maison Fostier, we are committed on a small scale to improving the world by redefining charcuterie.
REGENERATIVE AGRICULTURE AND A SUSTAINABLE WORLD
Regenerative agriculture is part of a broad debate involving everything from soil health to increasing community well-being and worker rights.
Although this term is not scientifically defined, it helps point us in the right direction:
REPAIR A DEFECTIVE SYSTEM
This form of agriculture has been practiced by rural indigenous farmers for many generations around the world and here in Thailand under the influence of his late majesty Rama IX who already proposed a model of self-sufficiency.
WORK IN OUR WORKSHOP
The meats arriving at Maison Fostier are immediately reworked in our cold room to guarantee you freshness and impeccable taste. Meat, salt and spices are mixed then left to rest overnight before being stuffed into natural casings. After embossing, they are dried in a cool, dark, airy and slightly humid space in order to best reconstitute the natural drying conditions in the Old Continent.
We use state-of-the-art, professional and efficient equipment but do not use any chemicals, dyes, accelerators or preservatives.
The white flower that covers our sausages is natural.
Our meats are therefore not powdered with flour.
Once our charcuteries have matured for periods varying between several weeks and several months (and they will have lost between 35 and 45% of their water) they are vacuum-packed and kept in a cool room at 13°C to then be transported by refrigerated transport to your doorstep.
In short, you will have understood that we respect the cold chain even if in the end the sausages easily withstand temperature variations between 0 and 26°
THEIR BUSINESS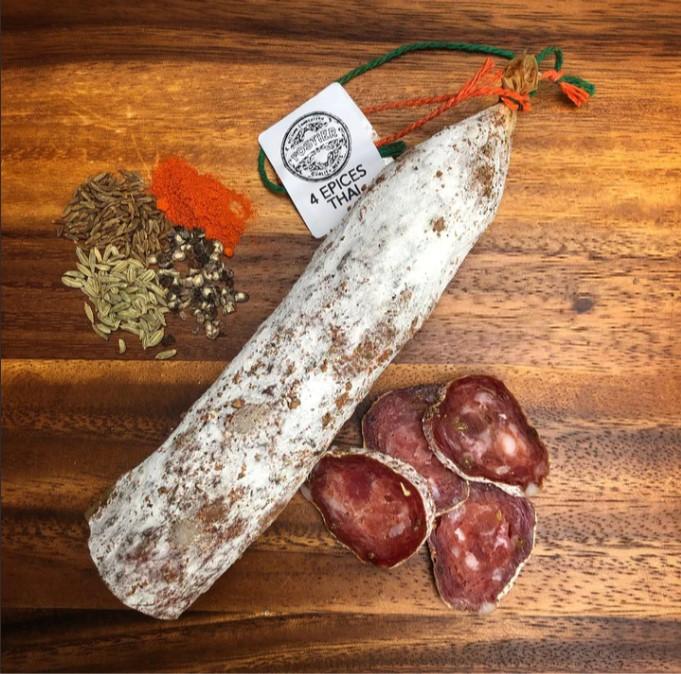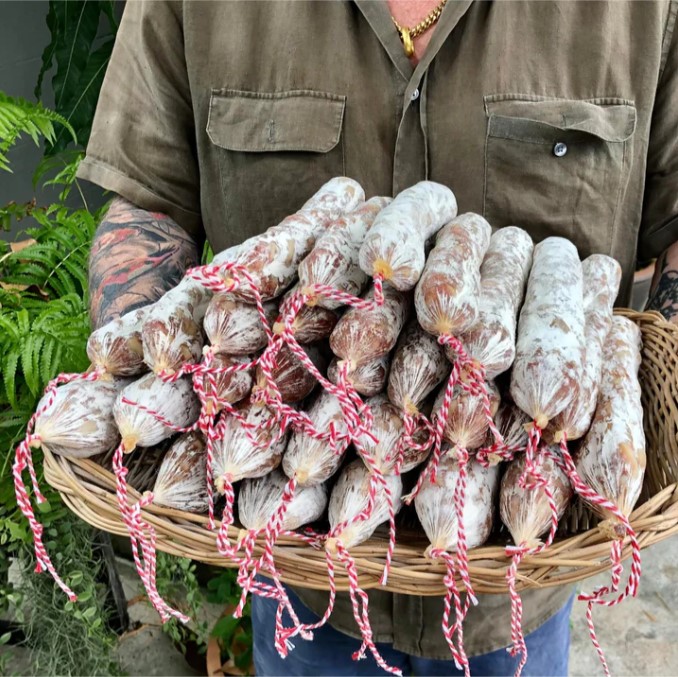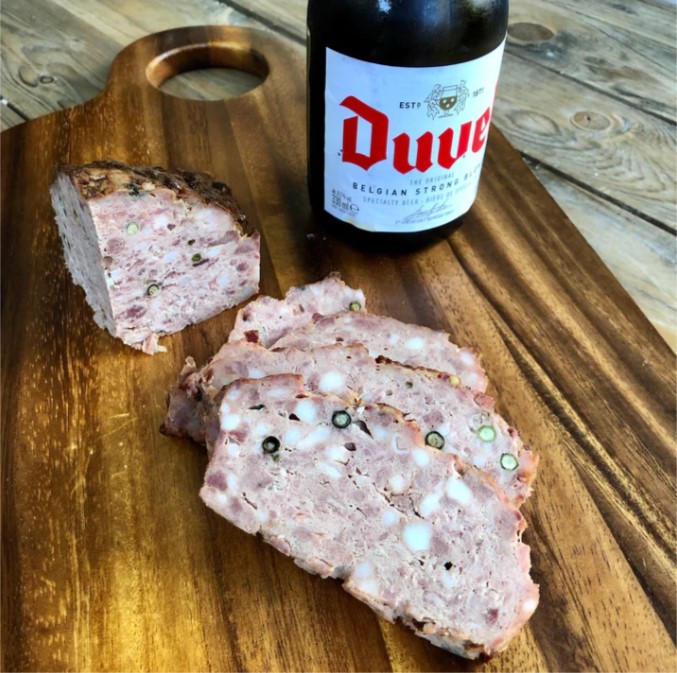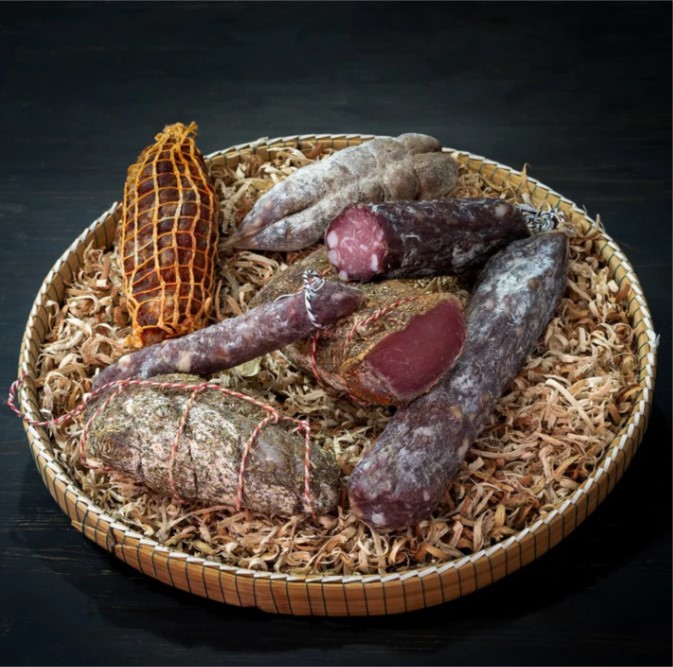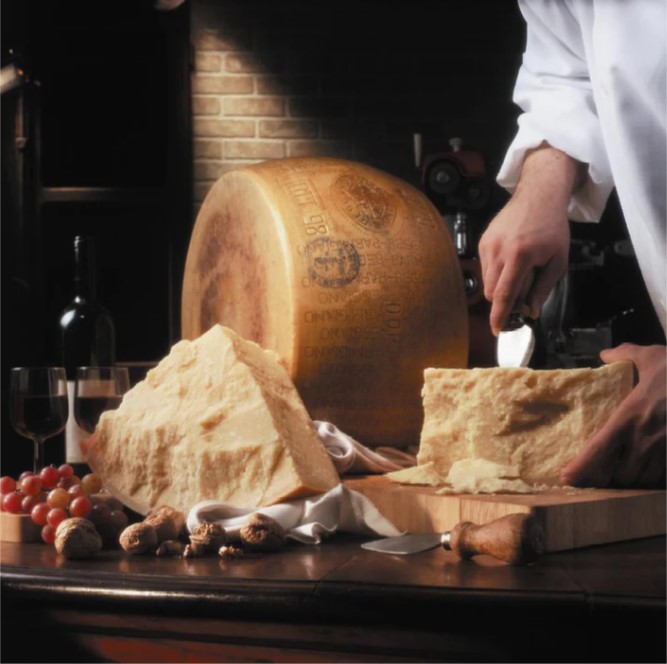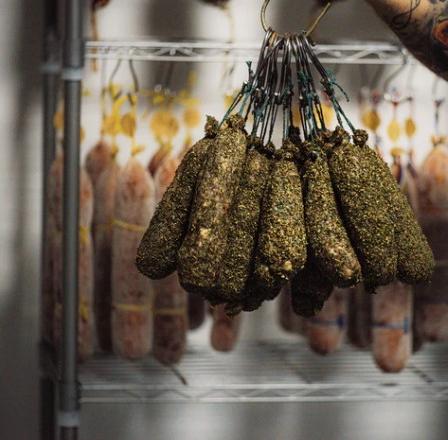 For contacting the company: Chat with us
Maison Fostier Artisan in Bangkok
754/183 Sukhumvit 101 soi Punnawithi 22 10260 Bangkok.
Tel. +66 90 927 5068